Recently, the novel coronavirus pneumonia epidemic has affected the hearts of people all over the country. In the face of the epidemic, Kingerobot did not forget its original intention and acted quickly. While doing a good job in the internal epidemic prevention work, it fully supported the fight against the epidemic.
On February 1st, Kingerobot donated 200,000 yuan to support the fight against the novel coronavirus pneumonia through the Qingdao Red Cross Society.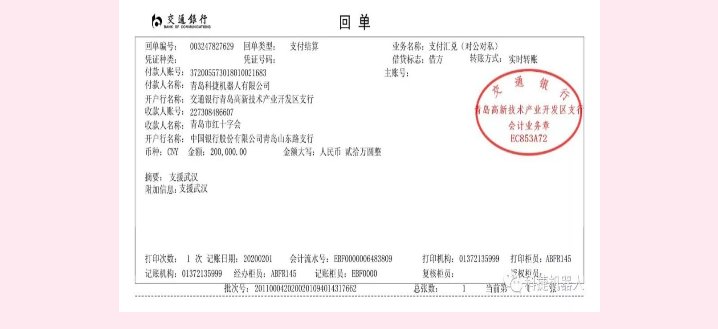 Kingerobot resolutely implements the spirit of the general secretary's important instructions on the new coronavirus pneumonia epidemic, and earnestly implements the deployment of the Party Central Committee, the State Council, and the municipal government to combat the new coronavirus pneumonia. Since the outbreak of the epidemic, we have cooperated with government departments and acted quickly to take epidemic prevention and control as the main current priority.
The company does a good job of employee safety protection in a timely manner to prevent micro-duplication. Notify all employees as soon as possible to do well in holiday health and safety protection, establish an internal reporting mechanism, and collect the health status of employees and their families on a daily basis. Employees at all levels thoroughly investigated employees from Hubei and Wuhan, employees and their families who had contact with people in the epidemic area, and made every effort to do a good job in logistics support and epidemic prevention publicity.
At the same time, in order to ensure the on-time delivery of customer projects during the epidemic, Kingerobot people are taking action. At the beginning of 2020, the company has successively signed important projects for many major customers in the United States, Southeast Asia and China. Due to the tight schedule and urgent tasks of the project, in order to ensure the on-time delivery of the client's project, but also to prevent the harm to the society caused by crowd gathering.
The company adopts modern network office means. Since the sixth day of the Lunar New Year, the company's R&D personnel, marketing personnel and management personnel have been organized to work from home through network video conferences, network file transmission and other means, and have held many meetings on project exchanges, program discussions, and technology advancement. In order to ensure the delivery of customers and not delay the progress of the project, Kingerobot people have started intensive work and supported the development of the country and the industry through practical actions.
As a responsible high-tech enterprise, Kingerobot adheres to a high sense of social responsibility and mission, never forgets its original intention and keeps its mission in mind. Prevention and control war!