On the morning of June 27th, the Qingdao Science and Technology Award Conference was held at the Municipal Conference Center to commend scientific and technological workers who have made outstanding contributions to Qingdao's scientific and technological undertakings. Zhang Jiangting, Member of the Standing Committee of the Provincial Party Committee and Secretary of the Municipal Party Committee, attended the meeting and presented awards to the winners. Meng Fanli, Deputy Secretary of the Municipal Party Committee and Mayor, attended the meeting and delivered a speech. Song Yuanfang, Director of the Standing Committee of the Municipal People's Congress, and Yang Jun, Chairman of the CPPCC attended the meeting. Qingdao Kejie Robot Co., Ltd.'s "all-steel heavy-duty tire gantry robot sorting and palletizing system" won the second prize of Qingdao Science and Technology Progress Award. Meng Fanli, deputy secretary of the municipal party committee and mayor, presented awards to Kejie Robot representatives.
All-steel heavy-duty tire gantry robot sorting and palletizing system, aiming at the sorting and warehousing process of all-steel tire production, realizes automatic sorting, palletizing, conveying and storage of all-steel heavy-duty tires, which can ensure all-steel tire enterprises 24 hours of uninterrupted production. The successful development of this system has reduced the labor cost of tire manufacturers, saving labor by more than 90%, increasing the correct rate of tire mixing to 100%, and effectively reducing the space for temporary tire storage. The application of the system has narrowed the gap between China and foreign countries in the research and development of tire production technology and manufacturing equipment, enhanced the core market competitiveness of my country's tire industry, and has good economic and social benefits.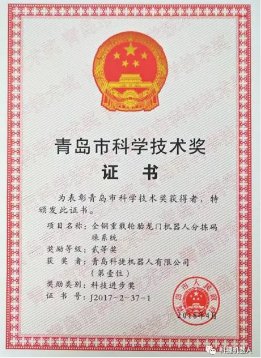 This award is an affirmation of Kejie Robot's accumulation in the industry for many years and its tireless pursuit of technology. Kejie Robot will continue to focus on the industry, focus on products, and thoroughly implement the idea of converting old and new kinetic energy to promote the upgrading of the mainstream manufacturing industry. Robots become bigger and stronger, boosting China's smart manufacturing 2025 goals.