On June 9, 2020, the Ministry of Industry and Information Technology of the People's Republic of China announced the list of companies (the third batch) that meet the "Regulations for Industrial Robot Industry", and Kingerobot was successfully selected as an "Industrial Robot Integrated Application Enterprise".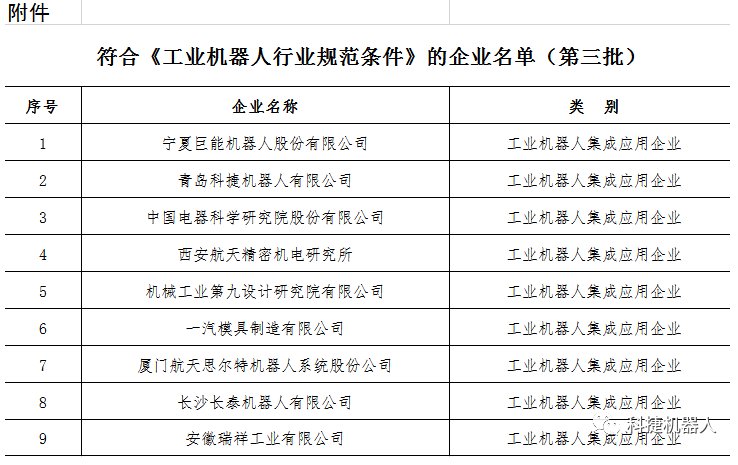 "Industrial Robot Industry Standard Conditions" is formulated by the Ministry of Industry and Information Technology to strengthen the quality management of industrial robot products, protect industrial robot ontology production enterprises and industrial robot integrated application enterprises, and enhance their enthusiasm for scientific and technological investment. The enterprises that meet the standard conditions shall be released to the public in the form of announcements, and various incentive policies shall be guided to gather in the announcement enterprises. Under the background of "a hundred flowers blooming" of domestic industrial robots, the formulation of strict industry norms is conducive to the sound and orderly development of the industrial robot industry.
Kingerobot has many years of experience in robot integration and application, and has long been committed to the research and development, manufacturing and sales of industrial robots, automated logistics equipment and Industry 4.0 solutions with intelligent manufacturing equipment as the core. A number of products with complete intellectual property rights have been applied in batches of rubber tires, 3C, automobiles, logistics, LED, new energy, woodworking and other industries. Customers who have achieved system integration applications include Goodyear, Pirelli, Zhengxin, Zhongce Rubber, Sailing Wheel Jinyu, Foxconn, Toyota, FAW, IKEA, etc., and have been exported to the United States, Russia, Japan, Germany, Mexico, Malaysia, Indonesia and other countries. It is believed that under the specification and guidance of "Industrial Robot Industry Standard Conditions", Kingerobot can play a leading role in the industrial robot industry, contribute to China's intelligent manufacturing, and contribute its own strength.